H

O

MA for Rolling train
The main application for switches is the switch on and off of the engine output (AC or DC) in case of errors, maintenance work or mounting. It moderates or brakes motors until the point of stand still.
H

O

MA Switchgear
For over 60 years
HOMA switches are being built into different applications for more than 60 years and have been supplied to more than 100 countries. Due to the worldwide experience of HOMA, many national and international norms can be fullfield and have conducted a vast number of type tests for our products. We equip our switches with coils that can be operated worldwide with 60V to 480V AC/DC. The worldwide distribution network ensures minimal downtimes in case of a break down. HOMA is known for short delivery times and due to its modular design, switches can be assembled and delivered within 24 hours.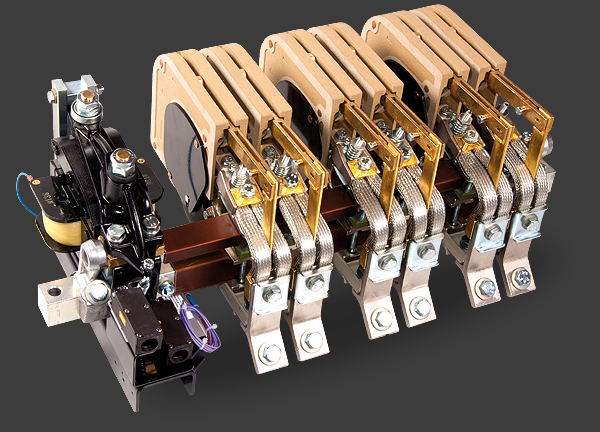 Switching
Air-break contactors and combinations of switches to deal with normal to complicated switching activities for all types of electrical loads.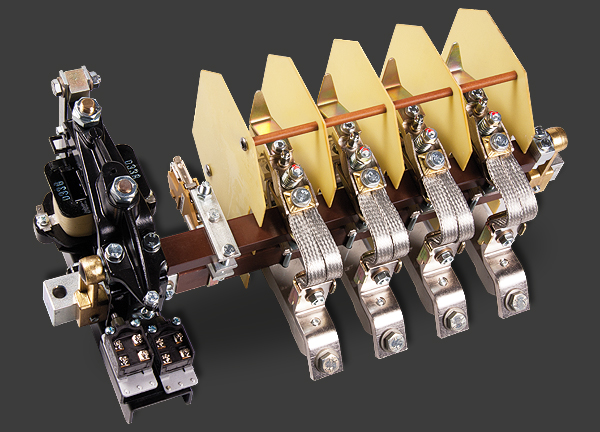 Isolation
Sliding contacts, air-break contactors and air- or water-cooled high current switches for galvanic interruption of circuits without a control current for technical or safety reasons.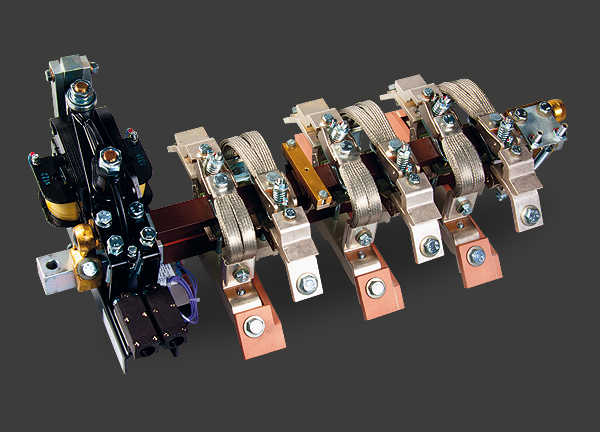 Distributing
Different types of commutators to select different sources or for an alternative supply of the electrical load circuit.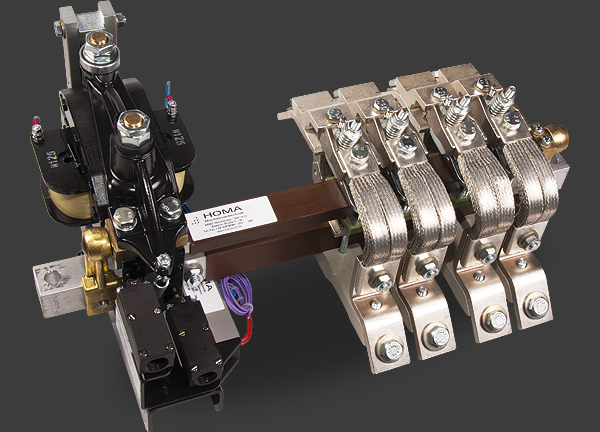 Controlling
Commutators and pole-reversal contactor including associated control systems, reversing contactors etc. for process-related reversion of the electrical current or rotational direction; braking contactors for switchoff for drives that simultaneously trigger dynamic braking systems.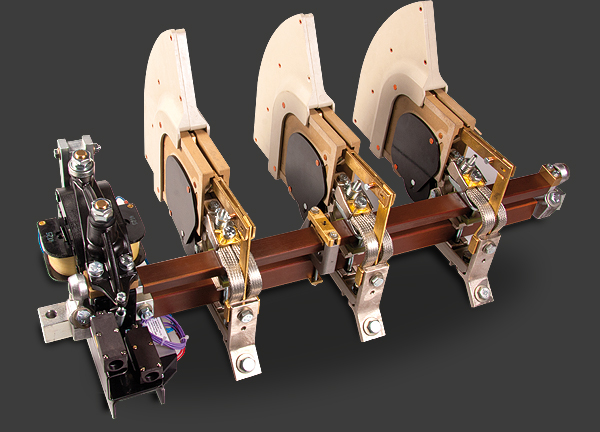 Regulating
Starting contactor / rotor-short circuit contactor, as well as starting coupling contactor / cascade coupling contactor for large machinery in association with subsynchronous static converter systems cascade; capacitor contactors for balancing or compensating inductive electrical loads. Starting, damping and discharge resistors.
H

O

MA Bar mounted Contactors
In HOMA Bar mounted Contactors current-carrying components are organized on the basis of a main frame construction. All required modules are arranged on top of a single frame (bar), for example: Magnet system, Terminal plate for power circuit, Switch locking system and Movable contacts. The two examples below (G500 / HAT-2W) illustrate the construction.
TYP
G500
1
magnet system
2
coil
3
auxiliary contacts
4
U-profil
5
control unit
6
terminal plate
7
grounding
8
main frame
9
nc-current pole
10
no main poles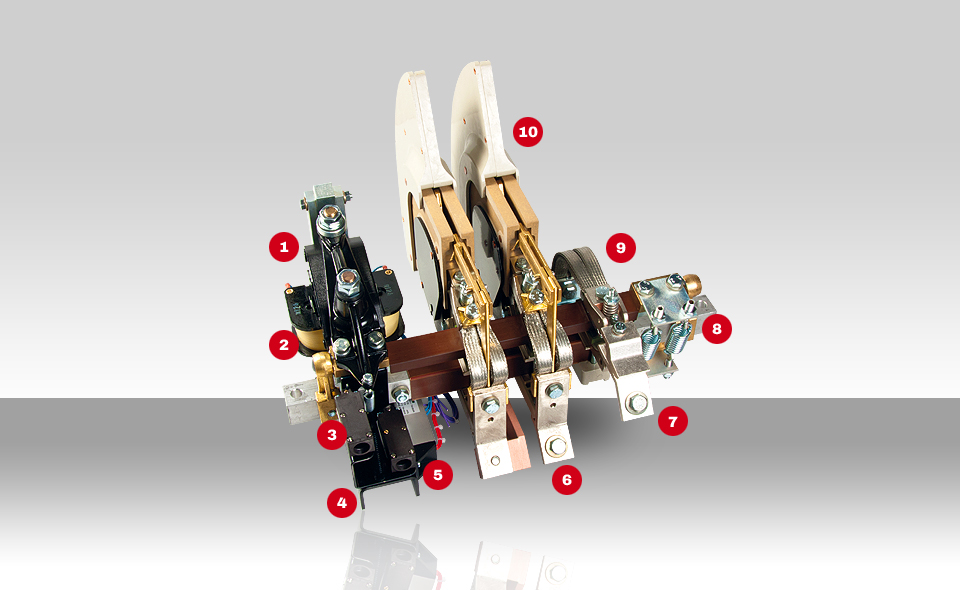 TYP

HAT-2W
1
switch lock. system
2
magnet system
3
coil
4
Hilfskontakte (3No + 3NC)
5
auxiliary contacts
6
u-profile
7
stationary contact
8
Connection
9
main frame
10
movable contacts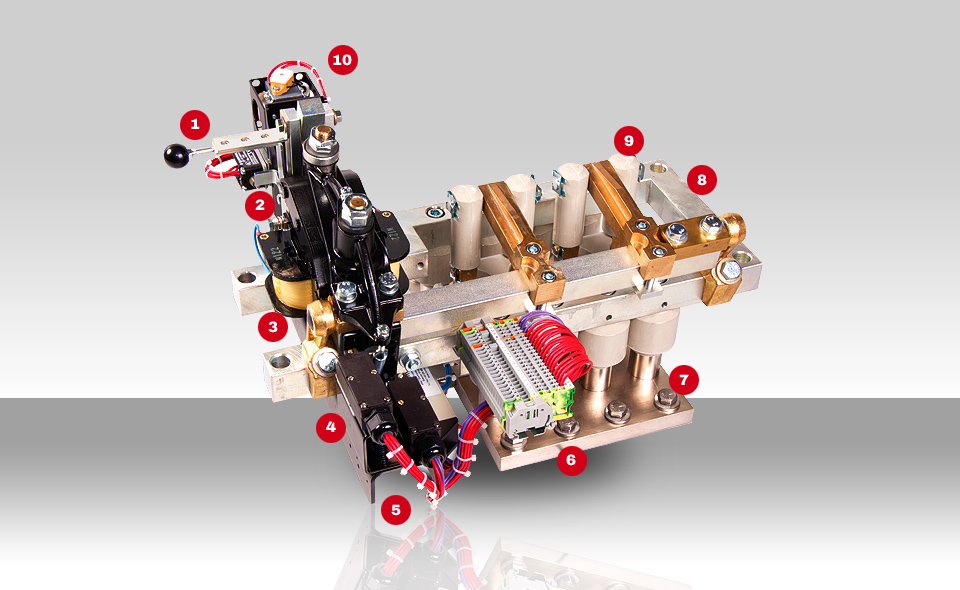 H

O

MA Cables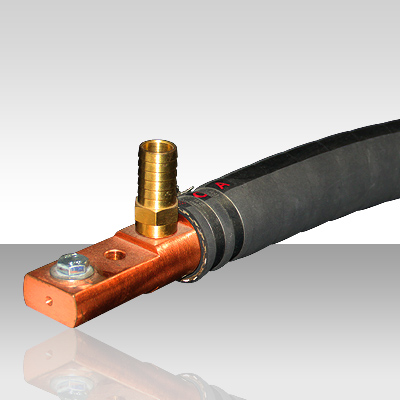 High Current Cables
95mm² to 8.000mm². Air- and watercooled.
Products
Copper tubes
HOMA offers engineering and fabrication of copper tube systems.
Products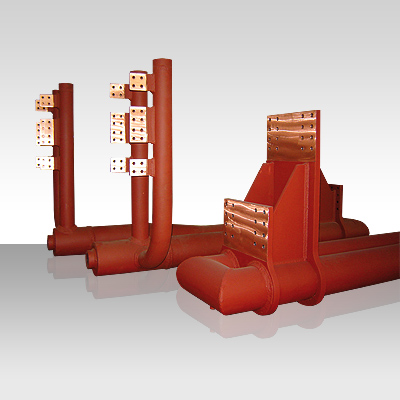 As a system supplier in the field of high current technology our product portfolio includes a variety of power connections. Beside a high flexibility, our products are known for a long life time and reliability.
Current

Carrying Connections

High Current Cables Busbar Systems Copper Tubes Electrode Arms
Further products:
High current cables 95mm² up to 8.000mm² air- and water cooled
Flexible connections/braids (Copper and Aluminium)
Press welded shunts (Copper)
Bus bars
Copper tubes or bus systems
Insulating materials
Starting - damping - discharge resistors
Insulator - supports up to 3000 V
Bus bar - supports
Vertically adjustable insulators
High current lines (transformer house)
Contact jaws
Electrode arm systems​​​​​​